Rumored AMD RDNA4 Specs Indicate 3.5GHz Clocks, Double RDNA3 Performance
This site may earn affiliate commissions from the links on this page. Terms of use.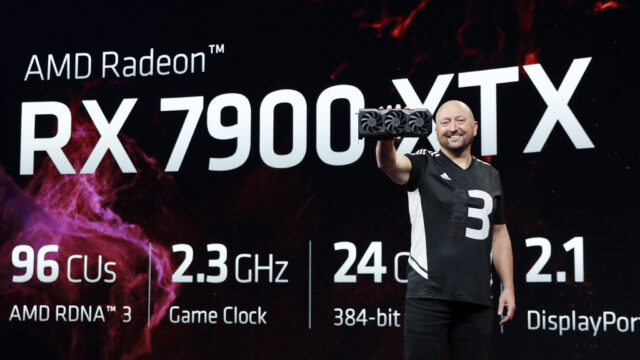 The ink has barely dried on the press release announcing the Radeon RX 7900 XTX, and we're already starting to hear about its successor. Dubbed Navi41, this next-generation GPU will be a major advancement for the company, especially in ray tracing. YouTuber RedGamingTech has posted a lot of info and specs on AMD's upcoming GPUs. However, since it's not official, it's best to label it as a rumor for now. Still, AMD seems intent on moving the goalposts forward by a huge margin with a 50 percent improvement in performance-per-watt.
AMD is expected to be making a lot of changes to its next architecture, Wccftech reports. ALU counts will reportedly remain the same at 128 ALUs per compute unit. However, clocks are expected to be majorly increased, reaching at least a 3.5GHz boost clock across the lineup. That's a 1GHz increase in boost clock over the RX 7900 XTX. Additionally, the next-gen Radeons are expected to offer GDDR7 memory, which has been a long time coming. Also, though RDNA3 has great rasterization performance, its ray tracing performance is not up to par with Nvidia's just yet. AMD is looking to rectify that imbalance on its upcoming GPUs.
[embedded content]
For AI and machine learning types of tasks, which includes ray tracing, AMD will be rolling out the second generation of its Wave Matrix Multiply-Accumulate technology. This first appeared in the RDNA3 GPUs that were just launched. AMD is reportedly bumping the number of compute units by 50 percent, leading to a 100 percent improvement in this type of rendering from RDNA3. AMD badly needs it too, as its ray tracing performance was one of the only major gripes reviewers had with the 7900 family of GPUs.
These chips will likely be made from a mix of nodes at TSMC. The main compute die will likely be fabricated on TSMC 3nm aka FinFlex, with the memory/cache dies being made on a 4nm process. Its current GPU chiplets are made with a mix of 5nm and 6nm processes. The flagship Navi41 die is expected to be offered with 32GB of GDDR7 across four memory cache dies (MCD). If that's not feasible, it'll support 24GB and 48GB of GDDR7 using six dies.
As far as main specs go, Navi41 is rumored to offer 144 compute units for a total of 18,432 stream processors if you double their count. For comparison, the RX 7900 XTX has 96 compute units and 6,44 stream processors before doubling them. Navi 42 will offer 96 compute units; the same as the current flagship. The midrange Navi43 will offer 48 CUs. This version hasn't been released yet for RDNA3, but it's anticipated to offer 32 compute units. Overall, the leak says that all three GPUs are targeting double the performance of their predecessors. The increases are due to much higher clock speeds, faster memory, improved Infinity Cache, and a variety of architectural changes.
Since AMD has only unveiled two RDNA3 GPUs thus far, it's likely these GPUs are at least a year away, if not longer. It took two years between RDNA2 and RDNA3, which is the same cadence Nvidia is using. Therefore, we can probably expect these GPUs will arrive for the holiday season of 2024. Obviously, a lot can and will change between now and then. The big question is whether AMD will have moved to the 12-pin 12VHPWR cable by then.
Now Read: