Google Cancels Upcoming Pixelbook, Disbands Laptop Team
This site may earn affiliate commissions from the links on this page. Terms of use.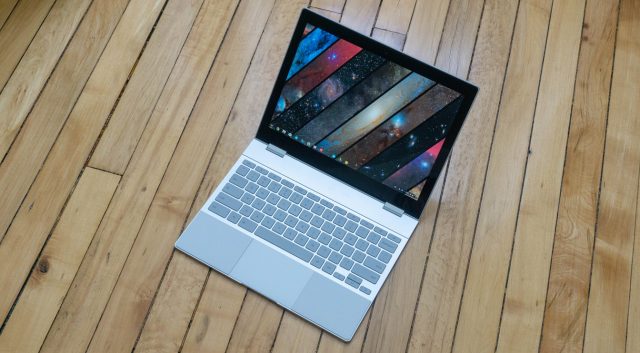 There is no shortage of Chromebooks on the market, but Google won't be making any of them. A new report claims that Google was on the verge of releasing a new Pixelbook laptop, but the project has been scrapped to cut costs. Google apparently isn't even moving on to a new Chromebook project — the team that designed the device has been dispersed throughout the company, indicating the Pixelbook brand may be dead.
Google made the first Chromebook more than a decade ago, but the CR-48 was never officially on sale. Google just gave it away to help flesh out how Chrome OS would work. It has launched a handful of Chromebooks, starting with the ludicrously expensive Chromebook Pixel in 2013. The 2017 Pixelbook was a much more popular device, though. It was sleek in a MacBook sort of way, but it had a unique design and a fantastic keyboard. Google followed it up with the disastrous Pixel Slate and the less catastrophic but still mediocre and overpriced Pixelbook Go.
Google fans have been waiting five years for a proper successor to the Pixelbook, and it looks like we may never get one. This is an abrupt change of direction for the company. According to The Verge, Google's hardware chief Rick Osterloh said this year that his team would produce more Pixelbooks. Just a few months later, it appears priorities have shifted. This may be related to CEO Sundar Pichai's recent announcement of hiring slowdowns and resource redistribution throughout the company.
Some of us might want a new, premium Google Pixelbook, but there may not be a place for it in the market anymore. Chromebooks saw a huge boost during the pandemic, as newly home-bound people needed inexpensive laptops to continue working and learning. Those numbers have come down a bit, but Chromebooks are still selling. The current number-one selling laptop on Amazon is a Chromebook, but it costs barely $100. Google is no longer alone at the high-end, though. There are devices like the new $1,000+ HP Elite Dragonfly, and even Acer is making premium Chrome OS hardware these days. Chrome OS is consistent from one device to the next, even if some are faster than others. It's not like Android, where the Pixel line exists as a hero device to show off Google's vision for Android. There's no explicit need for a "hero" Chromebook.
Google is a fickle beast, though. It will regularly abandon a product category only to return years later with a mea culpa and a promise that it's serious this time. It's doing that with tablets currently, having enhanced Android for large screens with Android 12L and working toward the release of the Pixel Tablet next year. It's also planning to release its first smartwatch in the coming weeks after partnering with OEMs in the past. Perhaps in a few years, someone in Google will look at the Chromebook market and decide it's time to step in again. Until then, you'll have to make do with the plethora of Chromebooks from other manufacturers.
Now read: