Logitech's G Cloud Gaming Handheld Launching in October at $349
This site may earn affiliate commissions from the links on this page. Terms of use.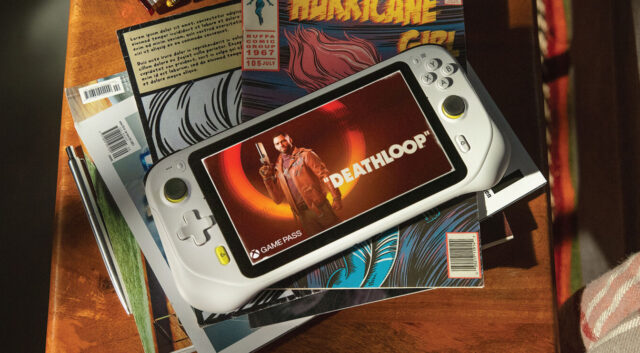 There are plenty of handheld gaming options in 2022, and Logitech hopes there's room for one more. In just a few weeks, we've gone from vague announcement to leaked render to retail availability for the G Cloud Gaming Handheld. The device will ship on Oct. 19 at a price of $349. Its focus on cloud gaming means it's not as capable as some game machines in the same price range, but you can get it $50 cheaper if you pre-order now.
Logitech equipped the G Cloud Gaming Handheld with a 7-inch 1080p LCD and a 6,000mAh battery that's good for more than 12 hours of gaming. That's definitely a selling point when devices like the Steam Deck, which is just a little more spendy, can barely eke out two hours. That's the power of cloud gaming, which relies on remote servers to do all the heavy lifting. Logitech's handheld is optimized for Microsoft's Xbox Game Pass and Nvidia GeForce Now, allowing you to stream more than a thousand games from the cloud. Of course, you'll have to subscribe to the aforementioned streaming services, and GeForce Now requires you to own the games on a linked service like Steam.
The G Cloud handheld looks a lot like the Nintendo Switch Lite, but it's running Android under a custom launcher designed in partnership with Tencent. You can switch to a traditional Android mode and use the handheld to play Android games — it's the Nvidia Shield Portable v2 I desperately wanted six or seven years ago. It has a Qualcomm Snapdragon 720G, which is an upper mid-range chip with enough power to handle games like Fortnite and Call of Duty Mobile easily. Logitech is pushing the cloud angle harder, and Microsoft is happy to promote it as a way to keep people using Game Pass.
[embedded content]
There's no 5G connectivity, so you'll need to be near Wi-Fi to take advantage of the G Cloud Gaming Handheld's cloud gaming capabilities. That makes sense from a cost standpoint — the $350 price tag is already pushing it. However, gaming handhelds are desirable mainly for their portability, and you can't use this one for its intended purpose unless you have strong Wi-Fi. That means planes, hotels, and cars are out.
Interested gamers can pre-order the G Cloud Gaming Handheld today for $299 before the price goes up. It looks like an interesting product, but it's going to be competing with popular devices like the Switch and Steam Deck. The G Cloud might be too late to be the Android handheld we wanted, and too early to be the always-on cloud gaming terminal of our dreams.
Now read: