Intel Says Raptor Lake Will Be Its First CPU to Hit 6GHz
This site may earn affiliate commissions from the links on this page. Terms of use.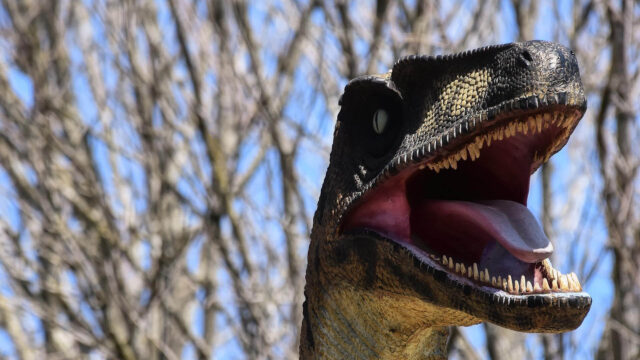 (Photo: Ray Shrewsberry/Pixabay)This week Intel is hosting an event in Israel to discuss its upcoming Raptor Lake CPUs, now officially 13th Gen Intel Core CPUs. Many leaks have already signaled Raptor Lake's overclocking capabilities, but now Intel itself has confirmed the absolute peak: 6GHz. To us, that sounds like an Intel Core i9-139000KS, which hasn't been announced yet. For the record, that's 300MHz higher than that of its main rival: AMD's Ryzen 9 7950X, which has a 5.7GHz boost clock.
News of this landmark achievement in CPU clocks, assumedly without fancy cooling, comes from Tom's Hardware. It snapped a photo of a timeline Intel posted showing its "history of being 1st & solving big problems." The last entry on the deck proclaims, "1st 6GHz/8GHz OC WR," meaning overclocking world record. The latter is referring to Raptor Lake hitting 8GHz on LN2 recently. It's been a decade since Intel silicon has been able to hit that frequency according to Wccftech, so it's a pretty big deal. Regardless, we assume that means the 6GHz part will just be regular Raptor Lake. Though it will surely be a binned SKU like the i9-12900KS. That Alder Lake CPU was able to hit 5.5GHz on two of its eight performance cores.
Last week Intel's sales decks for Raptor Lake were leaked, and they made no mention of 6GHz anywhere. Therefore, we are left to conclude this will be just like the 12900KS, which was launched nine months after the first Alder Lake CPUs. It was also a counterattack from Intel against AMD's Ryzen 7 5800X3D, which was released two months prior. Both CPUs traded blows for the title of "fastest gaming CPU" despite AMD's chip costing hundreds of dollars less. We can imagine Intel doing the same thing with Raptor Lake, waiting until AMD launches its V-Cache Zen 4 CPUs, then countering with a KS version flagship.
Hitting 6GHz on air is a noteworthy achievement if it's possible. Previously an overclocker got a Core i9-13900KF to run at 6.2GHz, but that was with an expensive liquid chiller. If Intel can hit those clocks on air or with an off-the-shelf AIO, that would be something. It is also unclear if 6GHz will be available with the standard 253W power envelope, or if it requires a motherboard that supports the new "extreme performance mode."
It also seems like Raptor Lake will be a decent upgrade from Alder Lake. If you were expecting the usual 10 to 20 percent uplift that comes from a "refinement" of an existing process, that might not be the case. At the conference, Intel said Raptor Lake would offer a 15 percent single-core uplift and a 41 percent multi-core gain in SPECintrate_2017. Though that's a rather specific test, Intel also said Raptor Lake would provide "40 percent performance scaling" over Alder Lake.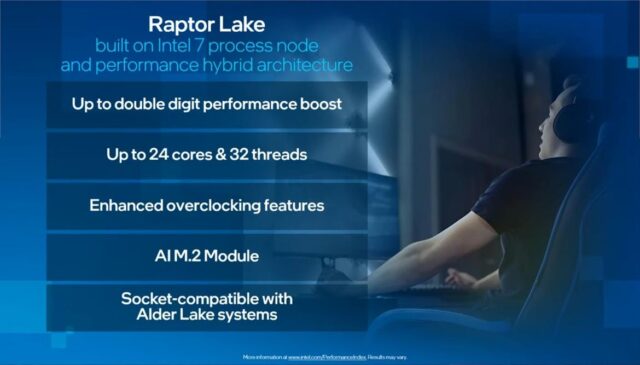 The company is currently briefing media on an NDA basis, so there will be more info coming out this week. Raptor Lake's official launch later will occur later this month. Though we've already seen specs, we're still waiting on pricing and launch dates. We also don't know a ton of info on what motherboards will be available, and how much they will cost. Though Raptor Lake will offer DDR4 support, it's unclear if that will make its way to Z790 or remain on the 600-series boards. However, since DDR5 has been shown to offer a 20 percent performance boost over DDR4, we're sure many upgraders will be tempted to make the switch.
Besides, prices have come down a lot from when Alder Lake launched. Also, leaked info on Intel's 14th gen Meteor Lake shows it will only support DDR5, like AMD is doing with Zen 4, so it makes sense to just get some now. Obviously, if you wait until next year prices will be even lower, but they're not that outrageous currently.
Now Read: