Nvidia CEO Hints RTX 40-Series Launch in September
This site may earn affiliate commissions from the links on this page. Terms of use.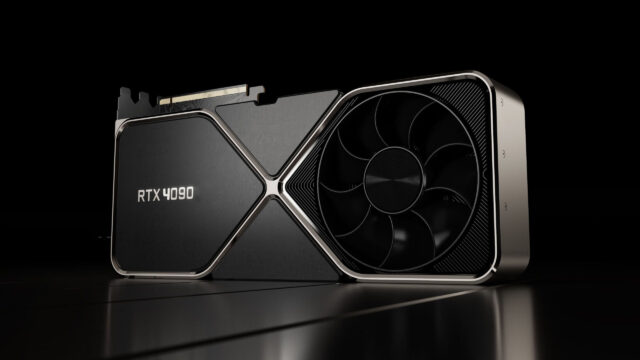 Nvidia announced the results from its second fiscal quarter this week. Though it was a rough period for team green financially, CEO Jensen Huang noted things will turn around soon as it prepares to launch its next-gen architecture. Huang teased a big announcement by saying he'll have some exciting news at GTC in September, where he will be delivering the keynote address. It's widely anticipated that he will reveal the RTX 4090 at the conference.
He summarized the upcoming announcement by saying, "I look forward to next month's GTC conference, where we will share new advances in RTX, as well as breakthroughs in AI and the metaverse, the next evolution of the internet." Translation: Huang will probably reveal at least the RTX 4090. The reason we know that is he said the next-generation GPUs will be launched with Ampere still in the channel. According to TechSpot on the earnings call, he said, "Ampere is the most popular GPU we've ever created. And it remains the best GPUs [sic] in the world, and it will be very successful for some time. However, we do have exciting new next-generation coming and it's going to be layered on top of that."
"Layered on top" is the operative phrase here. That implies Nvidia will likely only be announcing the flagship GPU at the conference, as that won't endanger sales of existing RTX 3080, 3070, and 3060 cards. Another hint that the Lovelace is imminent is he says Nvidia will be clearing out the channel to make way for new GPUs. Once again, Huang stated, "We've reduced sell-in to let channel inventory correct and we've implemented programs with our partners to price position the products in the channel in preparation for our next generation."
Overall, Nvidia had a forgettable second quarter. The cryptocurrency crash is hitting the company's bottom line hard. Gaming revenue for the quarter declined 33 percent year-on-year, and 44 percent from last quarter. Huang blamed "supply chain transitions in a challenging macro environment" for the company's 2nd quarter woes. At the same time, it's doing gangbusters business in the data center, which is helping to offset its losses in gaming. Overall data center revenue increased 61 percent year-over-year. It also increased its revenue in the automotive sector by 59 percent from just the last quarter.
GTC takes place from Sept. 19 to 22, with Huang delivering the keynote on the 20th at 8 AM PST. Like previous keynotes at this conference, it will include a lot of discussion about AI, data center, and so forth. However, it would not be a surprise if he pulls a "one more thing" at the very end to show off the RTX 4090. It's also possible it will be unveiled at a separate event focused on gaming during the conference. Also if the announcement does happen, it will put to bed the previous rumors about possible delays for the RTX 40-series due to GPU oversupply. However, it is still possible the mainstream cards (RTX 4070, 4060) might not arrive until next year sometime. We can see Nvidia using CES in January to announce the midrange Lovelace GPUs. Maybe by then, the existing stock will be depleted.
Now Read: