UK Police Arrest Alleged GTA 6 Hacker
This site may earn affiliate commissions from the links on this page. Terms of use.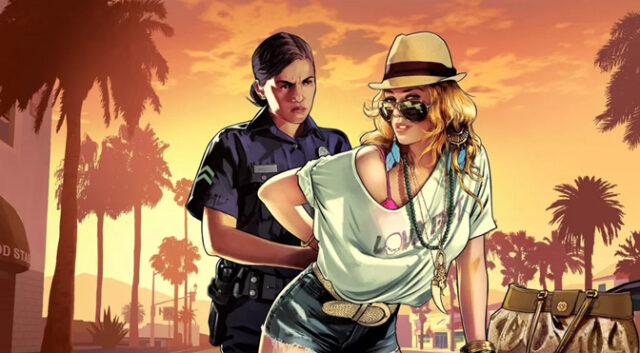 Gamers around the world have been anxiously awaiting news about Rockstar's Grand Theft Auto 6, and they got their wish a few days ago. However, it came from an unusual source — a hacker posted gameplay videos and snippets of code from the unfinished game. Now, UK police say they have arrested a 17-year-old suspect in the case, which has forced Rockstar to acknowledge its upcoming blockbuster title a little early. Authorities believe this same person may also have been behind the recent Uber hack.
The scale of the GTA leak is unprecedented in gaming history, but it seems rather well suited to a game both named after and based upon committing felonies. The person behind the attack was able to gain access to Rockstar's in-development resources, 3GB of which they posted publicly on the internet. That bundle of data included more than 90 gameplay videos. The graphics and animations are clearly unfinished, making for a rather embarrassing debut for one of Rockstar's biggest releases ever.
Following the leak, Rockstar announced that it was working with authorities to investigate, but that the development of the game would not be impacted. That may be optimistic, though. The hacker claimed to have the game's full source code, which he threatened to leak as well. Doing that could open the game to hacking and exploitation upon release unless Rockstar makes changes to prevent it.
UPDATE: @CityPolice confirm 17-year-old arrested over hacking incident; source says the crime is related to intrusion on Rockstar Games and possibly Uber Technologies. https://t.co/lLHX2cpGfA $UBER

— Matthew Keys (@MatthewKeysLive) September 23, 2022
Even if the arrested individual, who is not being identified at this time, was the only one involved in the hack, police believe he's associated with a group known as Lapsus$. If the data has found its way into other hands, it could still see the light of day. The teenager was arrested in Oxfordshire, which is where one of the leaders of Lapsus$ was believed to reside, based on previous work by security researchers.
Lapsus$ was suspected in a series of smaller hacks and ransomware attacks recently, but it seems as though going after Uber and Rockstar raised its profile too much. The arrest is part of a coordinated effort between the City of London Police, the UK's National Cyber Crime Unit, and the FBI. A BBC report earlier this year claimed a 16-year-old member of Lapsus$ had amassed a fortune of 300 Bitcoins (about $5.4 million at today's rates). This might be the same person, now 17, arrested for the Rockstar breach.
Now read: