The Best Quiet Keyboards For Noise-Free Workspaces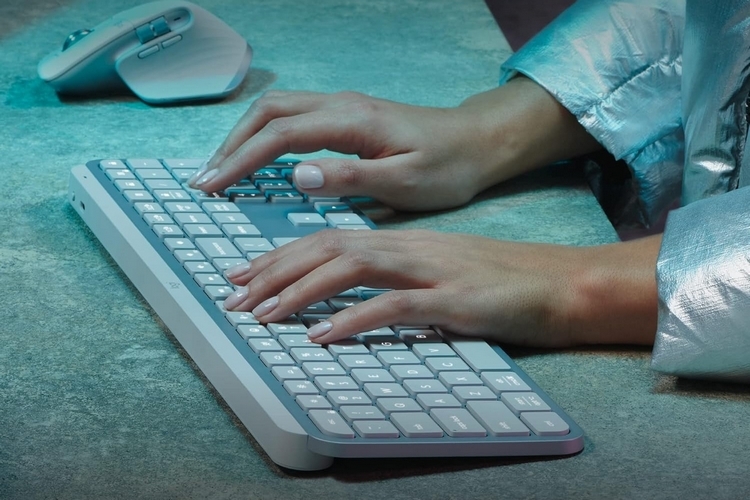 Some people like the hear the clanking of keys while they type. It offers a satisfying form of feedback, after all, letting you know audibly that a keypress has properly registered. Others absolutely hate the distracting sound that mechanical switches produce as the force of your tapping fingers are transferred to the integrated springs. If you're among those that can't stand all that plastic-on-plastic and plastic-on-metal-coil sound, chances are, you need a quiet keyboard in your setup.
Fortunately, there's no shortage of quiet keyboards out there. Whether you want a keyboard for productivity, gaming, or just general computing use, these quiet keyboards produce minimal sound while you type, allowing you to spam keypresses in a fighting game or punch in numbers non-stop on a spreadsheet without filling your immediate space with loud and sharp noises.
The best quiet keyboards can offer a typing experience that can be just as responsive and accurate as their noisy counterparts. Sure, you don't get the audible feedback at the actuation point that you have with mechanical keyboards, but the soft sound and gentle tactile feel of registering a keypress are usually enough to let you know that everything's fine and dandy.
In case you need the faster actuation of those clicky switches, there are actually some quiet mechanical keyboard options out there. While they use similar switches to their louder counterparts, they are usually fitted with sound-dampening foam and gaskets that effectively absorb sound, allowing you to enjoy the same fast actuation and tactile sensation with much less of the audible clacking.
These are the best quiet keyboards to help you maintain a noise-free workspace.
Logitech K380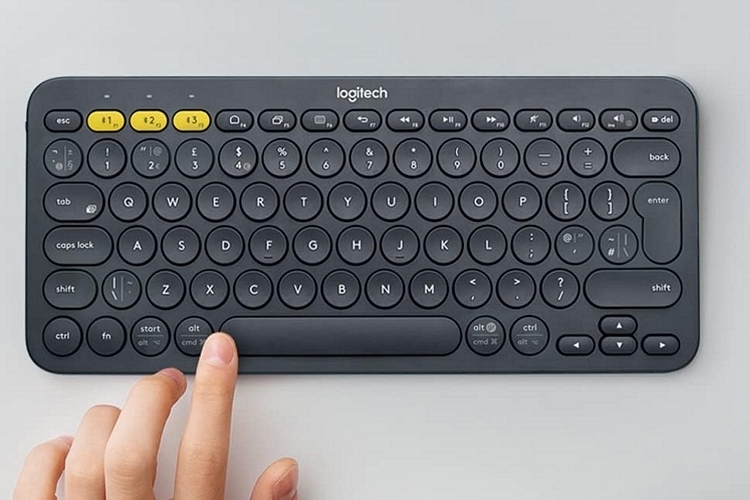 If you want a wireless quiet keyboard at an affordable price point, it's hard to beat what Logitech offers with this peripheral. Equipped with membrane switches, this 65 percent keyboard operates in near complete silence, barely making any noise even when you push down hard on the keys. It comes with rounded keys that feel good to type on, although the smaller size might be prone to mistypes, especially for individuals with bigger fingers. Not only does it work with Windows, macOS, Android, Chrome OS, and iOS devices, you can also connect with up to three devices over Bluetooth, allowing you to switch between them with just the single press of a button. It uses two AAA batteries, by the way, a fresh pair of which can last it up to two years, so it's very convenient to use.
SteelSeries Apex 3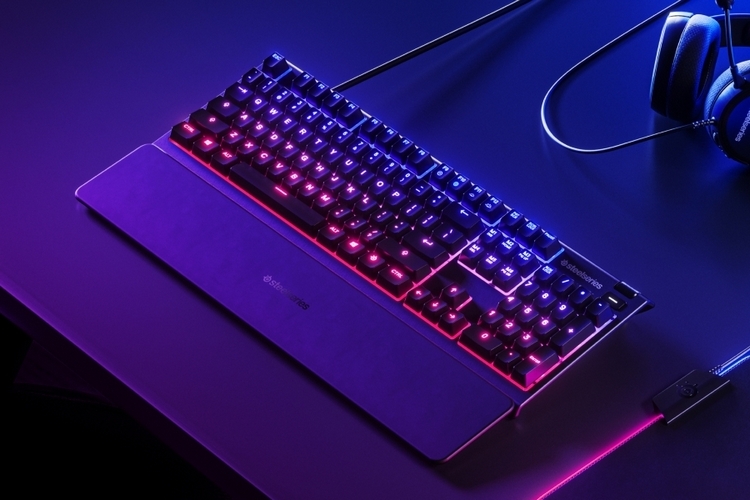 This wired gaming keyboard uses rubber dome switches that allow for quiet operation (not silent, but reasonably quiet), whether you're typing up a rant on Reddit or mashing buttons on an arcade platformer. It's a full-sized keyboard, by the way, so you get the full set of keys, although they also offer a tenkeyless version for those who prefer a smaller footprint. The switches also offer excellent tactile response, although you do have to press quite a bit to feel the actuation. For an affordable quiet keyboard, it's actually feature-packed, with 10-zone RGB illumination, a removable magnetic wrist rest (to keep you comfortable during long gaming sessions), built-in cable routing, a clickable scroll wheel on the upper right corner, and IP32 water resistance, so you don't have to worry about knocking over that can of Red Bull you always have by your side.
Corsair K55 RGB Pro XT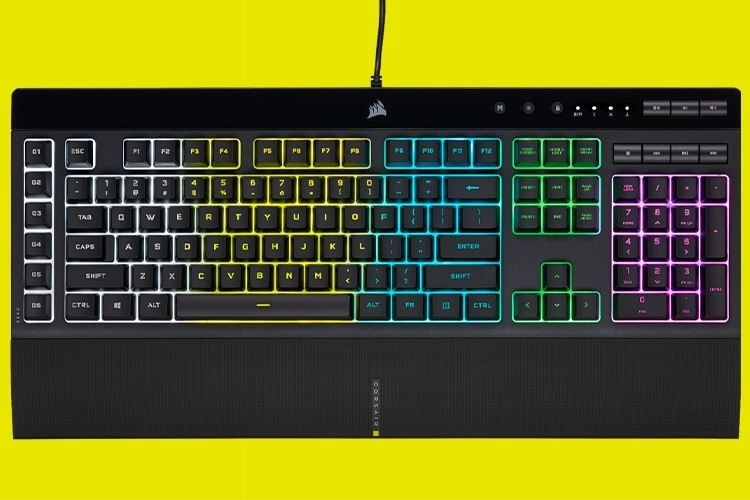 Another affordable gaming keyboard, this one is just as quiet during use, although the membrane switches here do require a bit more force to actuate during keypresses, which is great for tactile response, although it might not really be the best for gaming, since that can slow you down. Unlike the SteelSeries peripheral above, this has individual RGB lighting for each key, so you get to play around with fancier lighting effects if you're into that kind of stuff, while games that support the outfit's iCUE lighting system can actually control the light effects to match the in-game scenes in real time. It has a full-sized keyboard layout with dedicated media buttons on the upper right and six dedicated macro keys on the left, so while we love the extra controls, it does take a bit more space than usual. Other niceties include a detachable wrist rest, IP42 water resistance rating, and onboard memory for up to 10 lighting effects.
Logitech K780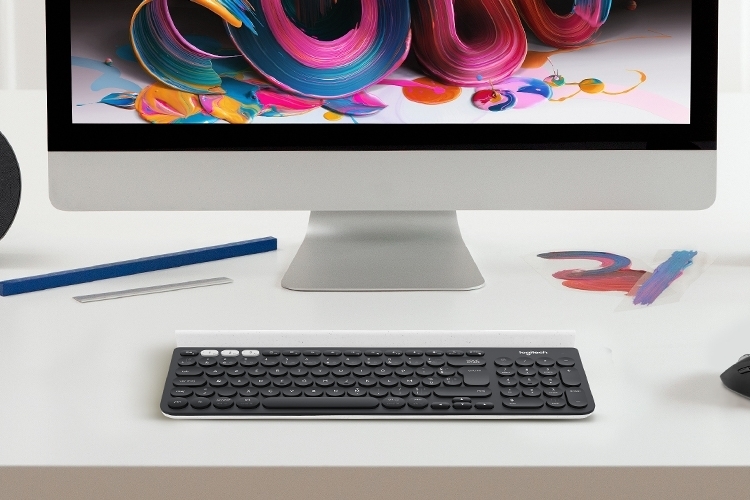 Just like the Logitech above, this quiet keyboard can pair with up to three devices at a time and supports all the same OS platforms, making it an excellent multi-tasking peripheral. Doing it one better, though, it comes with a stand at the back of the keyboard where you can set down a phone or tablet if you want to type on them. It uses similar rounded, concave keys with membrane switches that produce very quiet actuation, allowing you to maintain a noise-free area wherever you're doing your typing, while the 1800 layout means you get a full number pad at the right side (no editing keys, though), making it great for people who input a lot of numbers on a spreadsheet. If you type on multiple devices, including mobile ones, during the day, this is a really good keyboard for the job.
Buy Now – $64.99
GK Gamakay TK75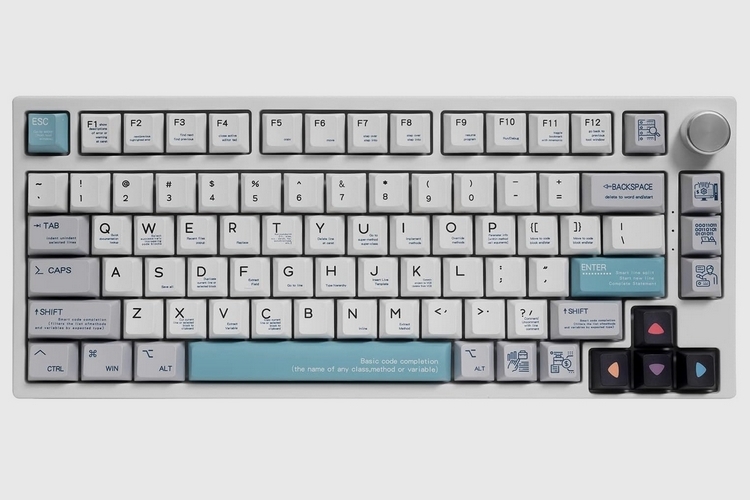 The product page calls it a "mute mechanical keyboard," which is a weird name to call your product. Is it really a mechanical keyboard? Yes. Is it really mute? Not really, although it is noticeably quieter compared to your typical mechanical keyboard, courtesy of its gasket mount design. Do note, you'll have to get it with the outfit's own Pegasus or Phoenix switches if you want the quietest typing experience, since all the other available switches do create a bit more ruckus. Just don't expect it to be as quiet as membrane switches because there still is a noticeable clicking that's just a lot softer than what you typically hear. Features include a 75 percent layout, multiple connectivity options (Bluetooth, 2.4GHz, and USB-C), programmable RGB backlighting, a polished metal knob control, and macro keys.
Logitech MX Keys S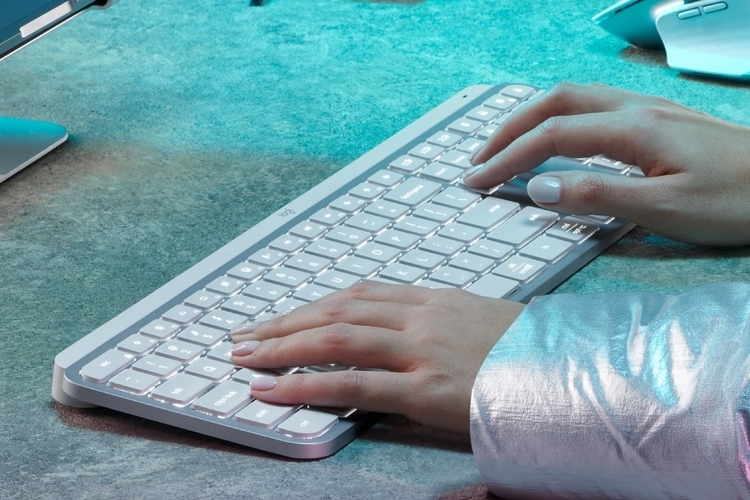 Designed specifically for workplaces and professional settings, this quiet membrane keyboard has a low-profile design that's meant to blend in than stand out and an impressive build quality ensures it can hold up to the demands of a hectic workday. A slightly raised back side puts it a typing angle that, the outfit claims, is better for overall wrist posture, while the concave keys are meant to keep your fingertips at the center of each key to improve typing precision. Like Logitech's other wireless keyboards, it can pair with up to three devices at a time for handy multi-tasking, with support for Windows, macOS, Linux, ChromeOS, iOS, iPadOS, and Android. It's feature-packed, too, with backlit keys that turn off when your hands are away to save power (since you're not typing), macro support, and a rechargeable battery rated at 10 days of use between charges.
Apple Magic Keyboard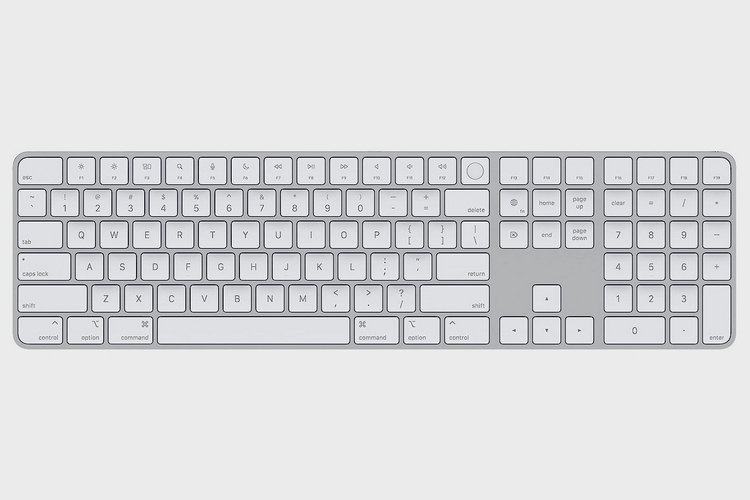 Apple's full-size keyboard uses the same scissor switch design found in their MacBooks, which have some of the quietest, most accurate, and most responsive keyboards ever on laptop devices. That carries over on this standalone peripheral, although the metal housing does create a bit more noise compared to the membrane keyboards in the list. Still, it's probably the best keyboard to use if you have one of the newer machines that use an Apple Silicon chip, especially since it has integrated Touch ID functionality. It requires your device to be running macOS 11.4 or later.
SteelSeries Apex Pro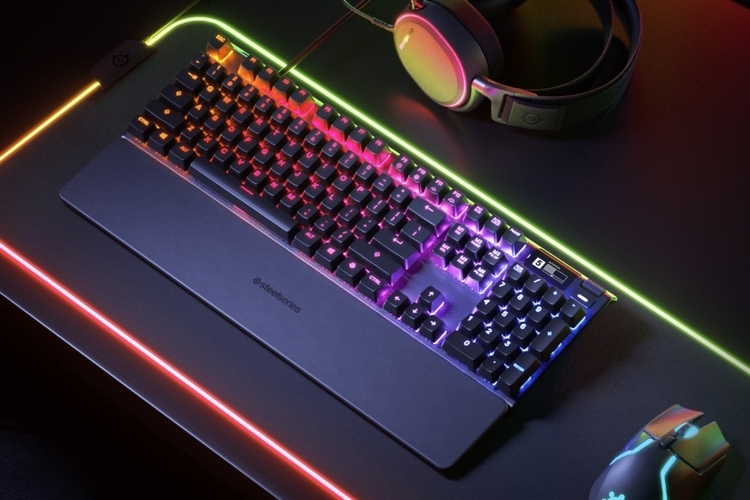 SteelSeries calls this "the world's fastest keyboard." Since we have no inclination to try every keyboard known to man, we'll just take their word for it. The reason they make the claim, though, is the fact that it boasts 20 times faster actuation and 11 times faster response than the average mechanical keyboard, which are nutty performance numbers if they actually hold. It uses OmniPoint 2.0 switches, which use magnetic sensors to actuate without the accompanying loud noise of parts actually coming in contact with each other. Even better, it has customizable actuation anywhere from 0.1 to 4mm (at 0.1mm increments), so you can actually register a keypress with nothing but a light touch if that's what you want and produce very little sound in the process. Granted, it won't deliver the same tactile feedback as traditional mechanical keys because of the magnets, but the springs do create a tactile feel all the same. Features include a full-size layout, per-key RGB backlighting, the ability to program two actions on a single key, a scroll wheel, and even a small OLED display that can show various notifications.
Keychron Q2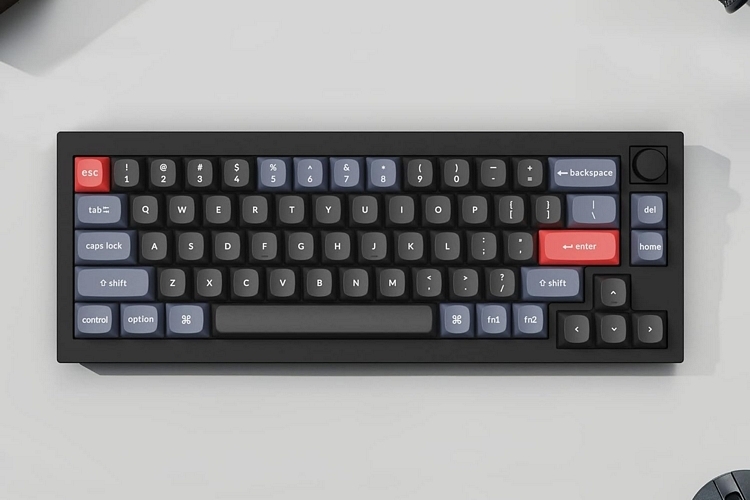 How the heck is a mechanical keyboard with Gateron switches able to operate quietly? In the case of this quiet wired keyboard, it does that by using a double gasket structure that dampens some of the unwanted sound, while a layer of sound-absorbing foam between them takes up much of the noise that's left. The result is a keyboard with the responsiveness and accuracy of a proper mechanical keyboard, all while delivering a much quieter experience that the guy working on the next desk will probably appreciate. Is it as quiet as membrane switches? Absolutely not, but it is so much easier on the ears that it's actually hard to believe we're using an actual mechanical keyboard. They recommend going with either the Brown or Red switches if you want the least typing noise. Features include a highly customizable design, individual RGB lighting that's south facing (so the light is more visible to the user), a compact 65 percent layout, and a handy knob at the top right corner.
Keychron Q6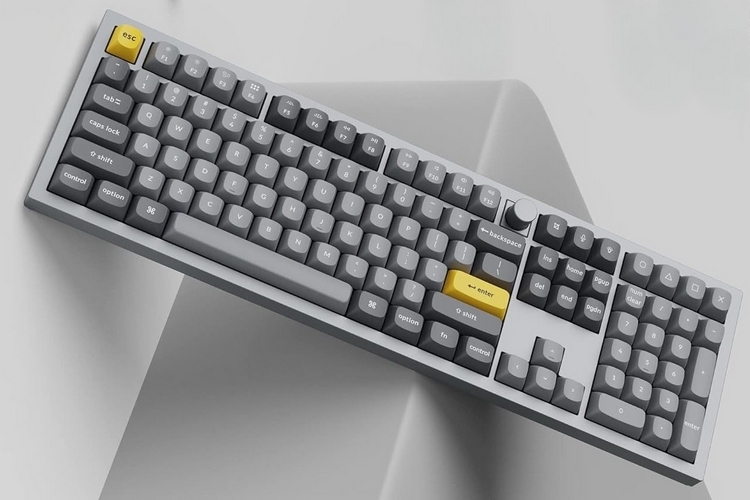 You want the mechanical keys with quiet operation of the Q2 model above, but absolutely need those navigation and numpad keys for the kind of work you do day-to-day? Not a problem with this full-size quiet keyboard, which uses the same Gateron switches as the one above, as well as the same dual-gasket and sound-absorbing foam reinforcements. They also added silicone pads to the inside sections of the case to reduce any sound resonance among the metal components, ensuring the quietest operation you can expect from any mechanical keyboard. It supports Windows, macOS, and Linux, with a switch allowing you quickly change from Windows to macOS layout. The keycaps and switches are hot-swappable, by the way, so you can just plug in the appropriate Mac or Windows keys, depending on what machine you're using. Features include QMK and VIA support for customizing key functions, double shot PBT keycaps, a knob control right above the Backspace key, and USB-C connectivity that enables a 1,000Hz polling rate.