Samsung Demos 'Flex Hybrid OLED' That Can Slide and Fold at CES 2023
This site may earn affiliate commissions from the links on this page. Terms of use.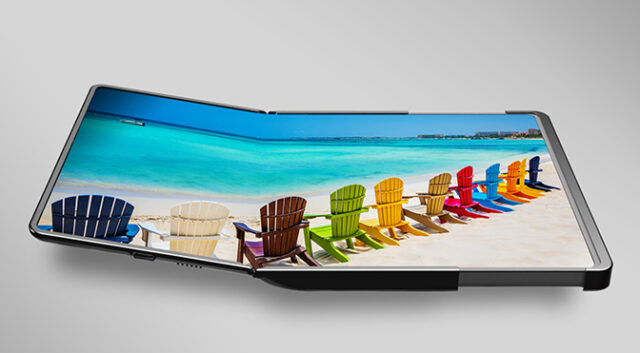 Mobile technology is becoming a lot less rigid these days — foldable smartphones let you move between two different screen sizes as needed, but Samsung's latest demo at CES 2023 doesn't stop there. The company's new Flex Hybrid OLED folds and unfolds like the panels used in the Z-series foldables, but the same panel can also slide. The result is a device that shifts not only sizes but aspect ratios as well.
The device is just a concept for showing off the new display tech, so there's no additional screen on the outside of the fold. When closed, the device is about 4.2 inches across, but opening it up reveals the 10.5-inch Flex Hybrid OLED. It's a 4:3 panel, which is close in shape to Apple's iPads and the Z Fold family. That's pretty typical foldable behavior, but the right edge of the device pops out to stretch the OLED further, allowing it to transition to a slightly larger 12.4-inch screen with a wider 16:10 aspect ratio.
Having multiple display shapes in one device opens up a new world of use cases. You could use the smaller 4:3 ratio for productivity and then transform the device to widescreen to watch video.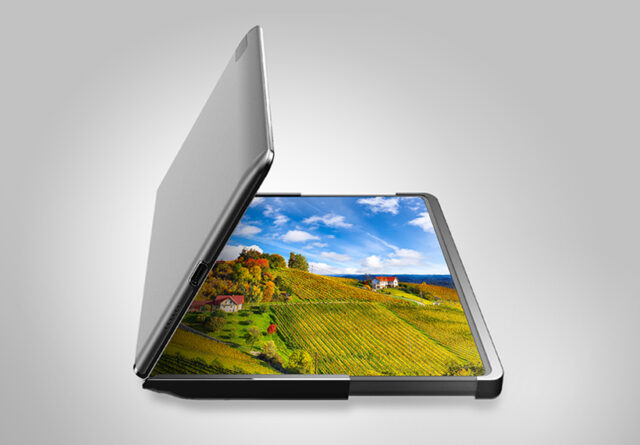 You might notice the demo device is much thicker to the right of the hinge than the left. That's where the "extra" display goes when the device is not fully expanded. So, the panel itself is not stretching, but rather the frame slides and "unspools" the hidden OLED. We've seen similar slider concepts in the past, but not as part of a foldable device.
Samsung's display division will have the hybrid device on display at CES, but that's not all — the company will also demo a larger-format slidable known as the Flex Slidable Solo. This one expands from 14 inches to 17.3 inches by expanding from one edge. And then there's the Flex Slidable Duet OLED, which expands from two opposite edges. Both of these concepts were announced at Intel's Innovation 2022 event, but they've never been demoed publicly before.
These devices offer a hint of where Samsung might go with future flexible mobile devices. No other OEM has put as much effort into making foldables a real product, but Samsung's designs are starting to look a little dated. The Z Fold series hasn't seen any major redesigns since it was introduced in 2019, and it's only a matter of time before the sleeker foldable tech we've seen come out of China makes it to international markets.
Now read: