Intel Announces 65W and 35W, Non-K Raptor Lake CPUs at CES 2023
This site may earn affiliate commissions from the links on this page. Terms of use.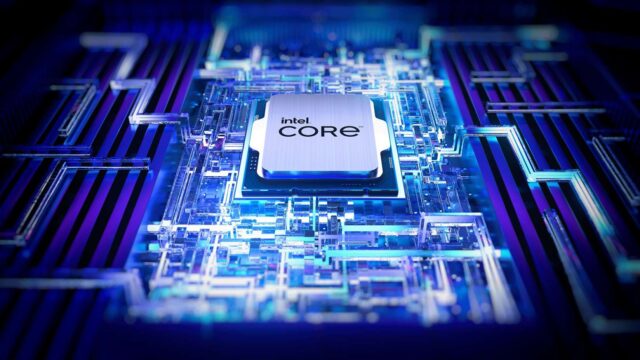 Intel previously launched its high-end Raptor Lake CPUs in September for well-heeled gamers and enthusiasts. Those were all 125W CPUs with unlocked multipliers for overclocking, aka the K-series CPUs. That included just three CPUs though: the Core i9-13900K, Core i7-13700K, and the Core i5-13600K. Now Intel has filled out the rest of its lineup with non-k, 65W and 35W CPUs. These use less power, and most of them cost a lot less as well. These are aimed at system builders on a budget and range in price from $549 down to $109.
For the 65W range, Intel has announced 10 new CPUs, according to PCMag. This family will lead off with the Core i9-13900, which will cost $549 and offer 32 threads like its K-series counterpart. Its maximum boost clock will be 5.6GHz. That's 200MHz lower than the K chip, but 500Mhz higher than the Alder Lake version, which topped out at 5.1GHz. Intel has also boosted the number of efficiency cores in most of the Raptor Lake CPUs compared with Alder Lake. They also have additional L2 cache as well. These include regular and "F" versions, which are like the "KF" CPUs in that they lack an iGPU.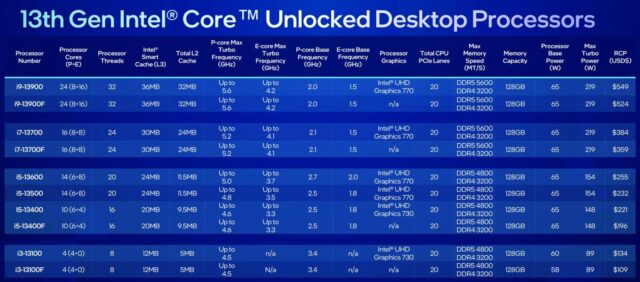 Compared with the i9-12900, Intel says the new version offers up to 34% uplift in multi-core workloads. For gaming, the uplift ranges from 6 to 19% depending on the title. The core i5 family is claimed to offer even more uplift. According to Intel, they can boost multi-threaded performance by up to 40% from the previous generation.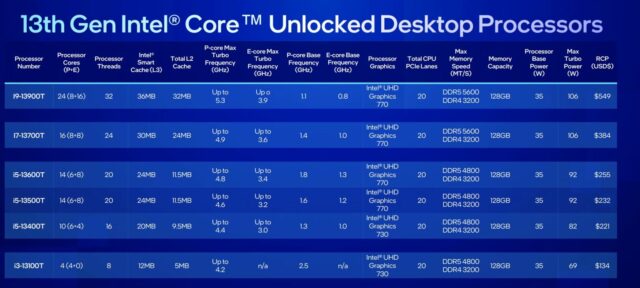 The 35W chips are designated by the letter T in their names. This family includes six CPUs covering i9, i7, i5, and i3 models, all of which include integrated graphics. Thanks to their low power draw, they all have lower clock speeds than their 65W counterparts.
Like the other Raptor Lake CPUs, these new chips will work in both Z690 and Z790 motherboards. You can also choose to use DDR4 or DDR5 memory, depending on the platform. Intel says two big changes with its new platform are its second-generation DDR5 implementation, which allows for higher clock speeds, and its support for Bluetooth Low Energy.
It's unclear when these new CPUs will go on sale, but their arrival will be welcomed by people looking to build midrange systems. The least expensive CPU released previously, the Core i5-13600K, was over $300. Since not everyone cares about overclocking, and the sweet spot tends to be around $150, these CPUs should be popular. AMD has not announced any "affordable" Zen 4 CPUs yet, which could compete here. However, the company's keynote is tomorrow, so we'll see what it unveils at that time.
Now Read: