Apple Mac Pro With M2 'Extreme' Chip Is Reportedly Cancelled
This site may earn affiliate commissions from the links on this page. Terms of use.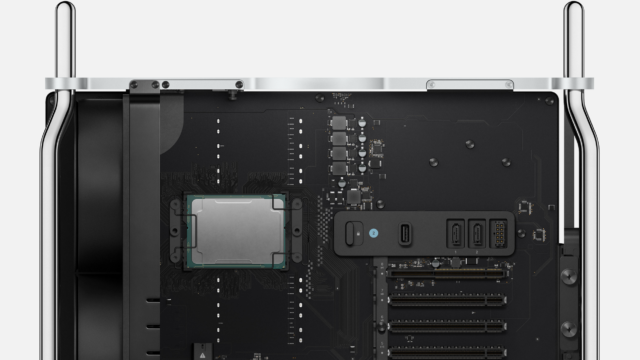 Apple announced its first products with in-house silicon at the end of 2020. At the time, it said it would eventually transition all its products over to M-class SoCs, and that would take about two years. So far, Apple has been mostly able to meet that deadline, but there are still two computers in its lineup using Intel chips: the Mac Pro and the Mac Mini. Most of us figured we'd see a new Pro and Mini unveiled at the company's annual hardware event in October, but that never occurred. Now a new report from Bloomberg confirms the Mac Pro is indeed delayed. Not only that, but Apple has reportedly canceled the most ambitious version of it. It's unclear what will happen to the high-end Mini.
The latest news comes from noted Apple reporter Mark Gurman. In the latest edition of his Power On newsletter, and a subsequent article, he says the reason for the Mac Pro delay is Apple keeps changing its mind about which chip to use in the Pro. Gurman says Apple originally was going to use two M1-based chips for the Pro. One would use two M1 Max CPUs, and one would sport four Max chips. The dual-Max chip, of course, became the M1 Ultra that was slotted into the company's new Mac Studio. Apple then decided to push the Pro chip into the M2 generation. So far, Apple has been slow to release updated M2 chips and has only done so for the base model M2 so far. We had expected Pro and Max versions by now.
Apple was reportedly planning on two configurations for the M2-based Mac Pro, an M2 Ultra (dual Max) and a quad-Max chip that Gurman is calling the M2 Extreme. The M2 Ultra will sport 24 CPU cores, 76 graphics cores, and up to 192GB of memory. The so-called Extreme chip would double that to 48 CPU cores and 152 graphics cores. In comparison, the M1 Ultra has 20 CPU cores and 64 GPU cores. It also tops out at 128GB of memory. Sadly, Gurman says the Extreme chip has been cancelled. The reasons are twofold: the complexity of the design, and so Apple and TSMC can conserve resources for higher volume machines, such as M2 MacBook Pros.
Apple is allegedly also not sure people will pony up for such an expensive machine. The M1 Ultra version of the studio costs almost as much as the Mac Pro. If it were to produce a chip with double the resources of the Ultra, it would be outrageously expensive. Generally speaking, the Mac Pro with an M2 Ultra would probably start at $10,000 and just go up from there. The current Mac Pro starts at just $5,999 but can rapidly get into the double digits when storage and memory are added. It costs $7,000 just to upgrade to the fastest 28-core Xeon processor.
The bottom line is that Apple thinks even if it did create a monster chip, it would be too expensive to move in volume. Since it would be ultra-niche, it's not worth the time and energy to develop it. Instead, it'll just go with an M2 Ultra chip, which fuses two M2 Max SoCs together. This will likely disappoint the truly hardcore video and photo editors out there. However, the Mac Pro's pricing has always been a bit ridiculous. If it went to another level with a quad-max chip, we can see people not being interested. You'd be talking about a $20,000 machine once it's got a few terabytes of SSD storage and 256GB of memory.
Another reason for the delay is Apple decided to move the final assembly of the new Mac Pro out of Texas. Instead, it'll be assembling them in Vietnam, with its parts being made in China. It originally moved that work to Texas after President Trump threatened the company with tariffs for computers made in China. With a new president in office, that threat no longer exists, so it'll reportedly feel safer moving production offshore. It still might use chips made in Arizona, however. Although, that won't be happening until 2024 at the earliest, and the Mac Pro will surely be unveiled before then.
Now Read: