Analyst: iPhone 14 Plus Sales Lagged Behind iPhone 13 Mini, Strategy 'Failed'
This site may earn affiliate commissions from the links on this page. Terms of use.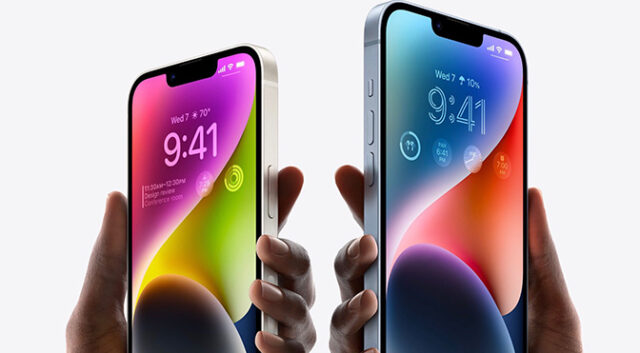 Has Apple underestimated the appeal of small phones? Apple Analyst Ming-Chi Kuo has posted his thoughts on early pre-order figures for the company's newly announced iPhone 14 family, and numbers for the iPhone 14 and ‌iPhone 14‌ Plus are reportedly "bad." Kuo speculates that Apple's decision to drop the Mini variant has not resonated with buyers, and fans of small phones are therefore holding off on upgrading.
For the past several years, Apple has made a Mini variant of its new iPhones, complete with the same silicon and advanced Face ID sensors as the bigger, more expensive versions. This was a boon for those who want a smaller smartphone but have been consistently failed by other OEMs as handsets grow more enormous year by year. The 2022 lineup is different — this time there are the premium iPhone 14 Pro and Pro Max, paired with the iPhone 14 and ‌iPhone 14‌ Plus.
The iPhone 14 with its 6.1-inch screen is the closest you'll find to the 5.4-inch iPhone 13 Mini. Although, Apple doesn't seem interested in appealing to those buyers, as it describes these phones as "big and bigger" on its website. Kuo doesn't have any real numbers from Apple on pre-orders, and the company rarely offers specifics. However, he has a good track record of puzzling these things out by looking at public data like projected delivery timelines for the new models in various markets.
Kuo says the company's product segmentation strategy this year has failed. While pre-order numbers for the iPhone 14 Pro and Pro Max are flat or up slightly, numbers for the iPhone 14 and 14 Plus are down compared with the iPhone 13 Mini and iPhone SE 3, both popular among small phone enthusiasts. Kuo also notes that numbers for the iPhone 14 Plus in particular appear to be "significantly lower than expected."
If demand for the standard models doesn't improve, Apple may reduce orders from its suppliers later this year. These supply chain partners tend to make less revenue on Pro models, so the companies could see declining income by later this year. If there's a silver lining here, iPhone buyers should see the iPhone 14 and 14 Plus on store shelves when they launch in October. The iPhone 14 Pro and Pro Max are set to launch this week (Sept. 16). It's unclear to Kuo if the company will increase shipment forecasts for the Pro models, which account for more than half of early shipments.
Now read: